GPS



What is GPS?
GPS is the acronym for the US owned Global Positioning System that provides users with positioning, navigation, and timing (PNT) services.
GPS satellites provide service to civilian and military users.
The civilian service is freely available to all users on a continuous worldwide basis.
The military service is available to US and allied armed forces as well as approved government agencies.
GPS Operation
GPS consists of three segments:

Space Segment - Consists of a constellation of 24 satellites transmitting radio signals to users.

L1 Signal: 1575.42 MHz
L5 Signal: 1176.45 MHz

Control Segment - Consists of a global network of ground facilities that track, monitor and analyze all GPS satellites.
User Segment - Consists of GPS receiver equipment using the information transmitted by the satellites to calculate a three dimensional position.
GPS Coverage
The satellite constellation is arranged into six equally-spaced orbital planes surrounding the Earth.

Each plane contains four "slots" occupied by baseline satellites.

This 24-slot arrangement ensures users can view a minimum of four satellites from virtually any point on the planet.

GPS satellties Orbit the Earth at an inclination of 55° and an altitude of 12,550 miles (20,200 km).

Each satellite circles the Earth once every 11 hours and 58 minutes.

In June 2011, three of the 24 slots were expanded, effectively creating a 27-slot constellation with improved coverage for most parts of the world.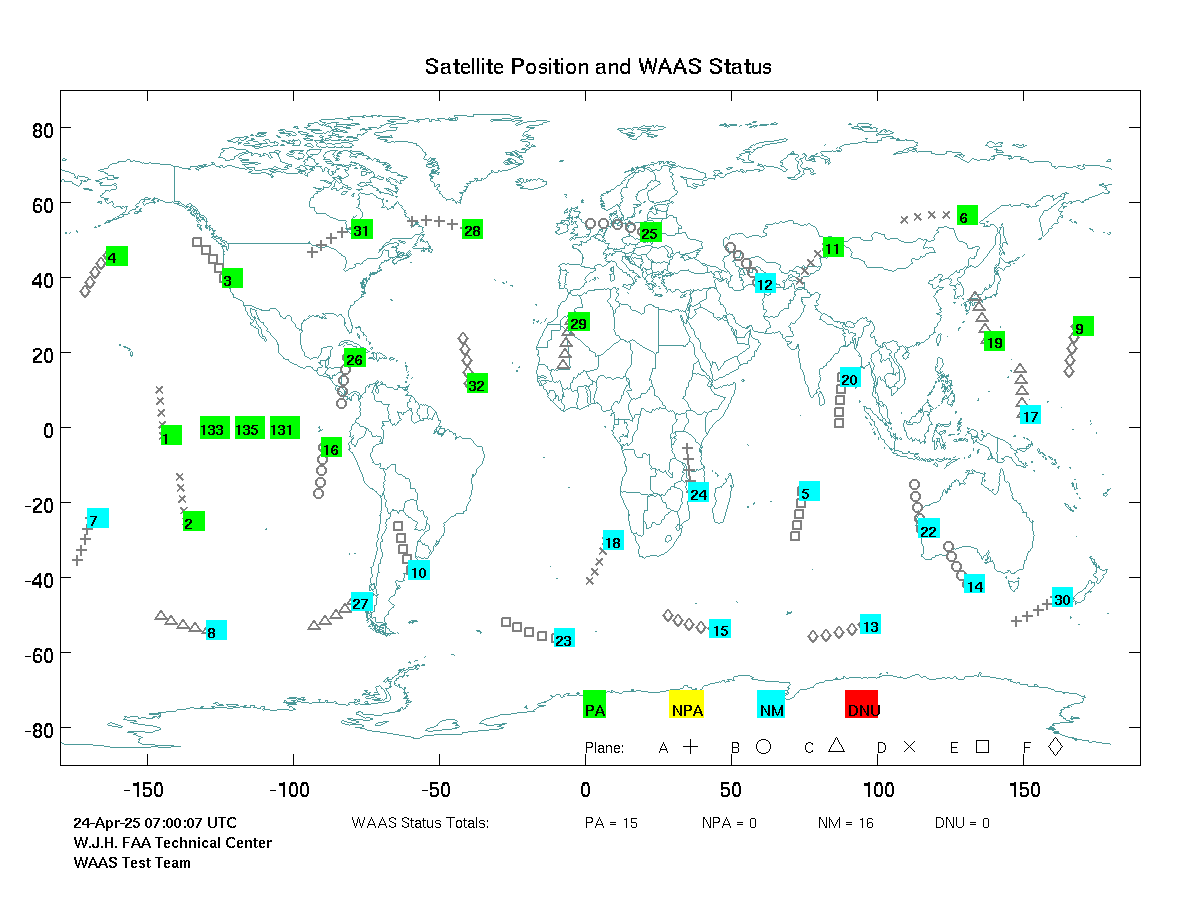 (click image above to refresh status)

PA Precision Approach (UDRE<15m) NPA Non-Precision Approach (UDRE>50m) NM Not Monitored DNU Do Not Use

The GPS Control Segment consists of a global network of ground facilities that track all GPS satellites, monitor their transmissions, perform analyses, and send commands and data to the constellation.
The current Operational Control Segment (OCS) includes a master control station, an alternate master control station, 11 command and control antennas, and 16 monitoring sites.
GPS Operational Control Segment as of May 2017:
GPS Availability
As of January 13, 2020, there were a total of 32 operational satellites in the GPS constellation (not including decommissioned, on-orbit spares).
Choose desired GPS Satellite (NMEA ID) below to view current location:
Do We Need GPS?
Like the Internet, GPS is an essential element of the global information infrastructure. The free, open, and dependable nature of GPS has led to the development of hundreds of applications affecting every aspect of modern life. GPS technology is now in everything from cell phones and wristwatches to bulldozers, shipping containers, and ATM's.
GPS boosts productivity across a wide swath of the economy, to include farming, construction, mining, surveying, package delivery, and logistical supply chain management. Major communications networks, banking systems, financial markets, and power grids depend heavily on GPS for precise time synchronization. Some wireless services cannot operate without it.
GPS saves lives by preventing transportation accidents, aiding search and rescue efforts, and speeding the delivery of emergency services and disaster relief. GPS is vital to the Next Generation Air Transportation System (NextGen) that will enhance flight safety while increasing airspace capacity. GPS also advances scientific aims such as weather forecasting, earthquake monitoring, and environmental protection.
Finally, GPS remains critical to U.S. national security, and its applications are integrated into virtually every facet of U.S. military operations. Nearly all new military assets, from vehicles to munitions, are equipped with GPS.